South Coast District Camporee
Rancho Alegre

April 21, 22, & 23, 2017

"Lewis and Clark"
Attention all Scout and Webelos Leaders: Just 3 weeks until the South Cost District Camporee and 12 days left to sign up. Registration will close on April 12th. Please go to the following website to register and get all the information for this year's camporee event. Check out the Camporee Booklet for information about the camporee which is on the website.

http://southcoastcamporee.com/ (Note that this is an unofficial BSA site run by Scout Leader Elmer Jones for the benefit of the South Coast District Camporee.)

Please let me know if you have any questions regarding Camporee.

I am looking for some adult help on Saturday afternoon to help supervise the free time challenge events. No planning work, just supervision help from 2 p.m. to 5 p.m. Please let me know if you are willing to help.

If you could please send this to your troop leadership if you are not the contact person for your unit any more. Thanks…

Trey Pinner | South Coast District Camporee Chairman

W 805-963-1971 | C 805-448-8760
tpinner@bssmco.com

Posted April 2, 2017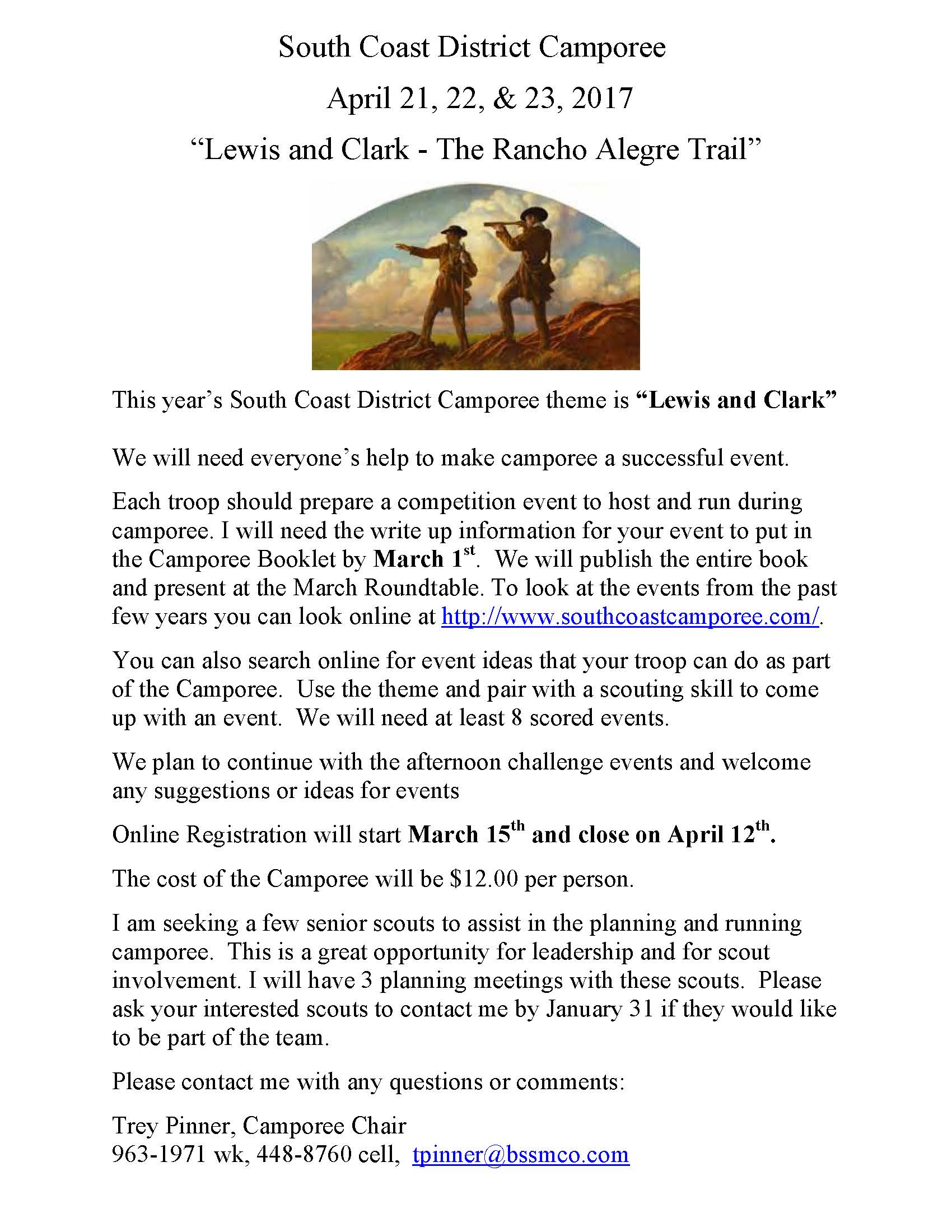 To download a copy of this flyer,
click here
.
This year's South Coast District Camporee theme is "Lewis and Clark"
We will need everyone's help to make camporee a successful event. Each troop should prepare a competition event to host and run during camporee. I will need the write up information for your event to put in the Camporee Booklet by March 1st. We will publish the entire book and present at the March Roundtable. To look at the events from the past few years you can look online at http://www.southcoastcamporee.com/. Please note that this is website owned and operated by Elmer Jones, former Scoutmaster of Troop 37 who generously makes this service available to us each year.
You can also search online for event ideas that your troop can do as part of the Camporee. Use the theme and pair with a scouting skill to come up with an event. We will need at least 8 scored events. We plan to continue with the afternoon challenge events and welcome any suggestions or ideas for events
Online Registration will start March 15th and close on April 12th.
The cost of the Camporee will be $12.00 per person. I am seeking a few senior scouts to assist in the planning and running camporee. This is a great opportunity for leadership and for scout involvement. I will have 3 planning meetings with these scouts. Please ask your interested scouts to contact me by January 31 if the would like to be part of the team. Contact Information: Trey Pinner, Camporee Chair 963-1971 wk, 448-8760 cell, tpinner@bssmco.com

Please feel free to contact me with any questions or comments.