2016 National Youth Leadership Training
August 1-6, 2016 at Rancho Alegre
National Youth Leadership Training is the Los Padres Council's advanced leadership training course for Scouting's youth leaders. NYLT is a course staffed and led primarily by Boy Scouts. The course material can be applied to all aspects of a Scout's life, not just his Scouting leadership. Through activities, events, games, and adventures, participants will work hard and play hard as they put into action the best Scouting has to offer.
The Objectives of the NYLT Course are:
Give participants the confidence and knowledge to conduct the Troop program.

Provide participants with a clear understanding of team and personal development and how those elements relate to being a leader.

Guide the participants through the stages of team development.

Experience an environment of Scouting fellowship and fun.

Give Boy Scouts and Venturers the opportunity to work with Scouts from other troops.
Prerequisites for attending NYLT are:
Be at least 13 years of age, but not yet 18 by August 6, 2016, and be at least First Class rank.

Completion of Introduction to Leadership Skills (ILST or ILSC) is highly desirable.

Be at the pre-course Orientation Meeting

(location and date to be announced)

.

Be recommended for participation by your Unit Leader, and have permission from your parents.
HAVE FUN AND EXPERIENCE
SCOUTING AT ITS BEST!
If you can SEE it, You can BE it!
Participants
NYLT is a fantastic experience! Check out the program brochure and submit your participant application to attend today.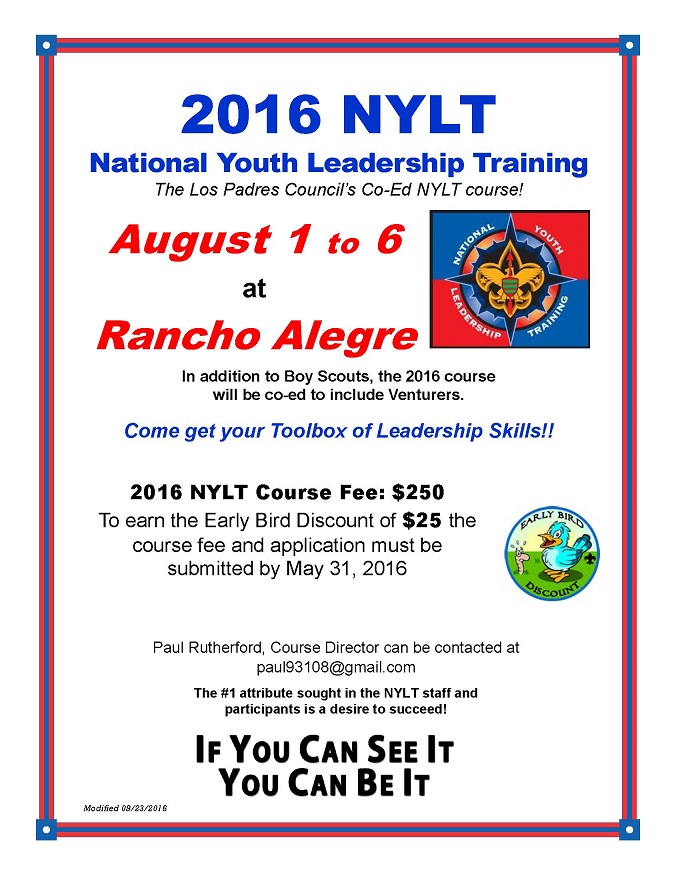 For more information and a Participant Application Form, click here.

.
Registration will open approximately six months prior to the start of the event. Please note that your completed Participant Application must be mailed to the Rancho Alegre Business Office within five days of your payment to secure your spot at the camp.
Staff
Staff applications are now being accepted for the 2016 NYLT program. For more information contact Course Scoutmaster Mr. Paul Rutherford by email at paul93108@gmail.com
Staff applications

can be downloaded here.
All
For required medical form (March 2014 version) from all participants and staff,

click here

.
Copy of flier

above to share with other interested participants or staff aspirants.
Closing dinner on Saturday will begin at 4 pm with participants departing at 5:30 pm. Reservations for family members is required for the dinner. Please contact Rancho Alegre Business Hours before 3 pm on Wednesday, August 3rd at 686-5167 to make your dinner reservation.