Friends of Scouting - 2017

"Helping Today's Youth Become
Tomorrow's Leaders Since 1910"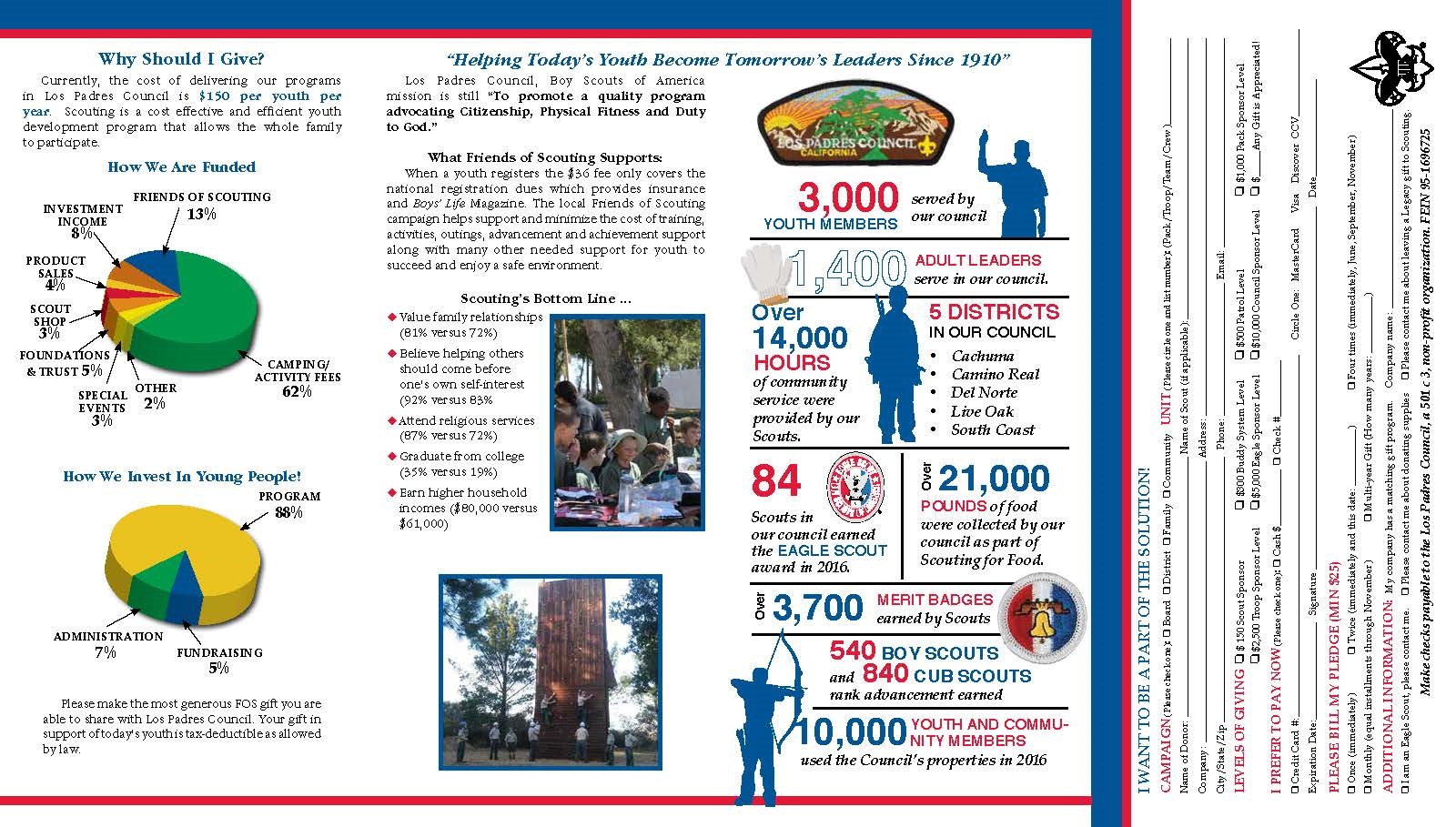 To download and print a copy of the above brochure,

click here.

To make an online donation, click here.

All donations to Scouting are tax deductible according to Internal Revenue regulations.

Friends of Scouting is the opportunity for the community to make donations to Scouting and the youth that are served. Unfortunately, the Council needs additional funds to operate three service centers (Santa Barbara, Santa Maria, and Atascadero), one Scout Camp (Rancho Alegre), and a multitude of programs (Summer Camp, Cub Scout Day Camps, Webelos Woods, NYLT, Volunteer Training, etc.) Yes, our Scouts are asked to pay their way with a nominal fee for each activity. Many of our donors no longer have youth in Scouting, but they remember the fun times and experiences that they gained from Scouting and want to see those activities passed on to the leaders of tomorrow.

During the early months of 2017 volunteers will be visiting Pack Meetings and Courts of Honor to make a short presentation and to ask parents to contribute to this year's campaign. You can help kick start this program by making your donation early. It doesn't have to be made immediately. We accept pledges and will send you reminders in future months to make your donation. And don't forget that your donation to Scouting is tax deductible.

For people who are able to make significant donations to Scouting, please visit our Capital Campaign page which shows an assortment of capital items that would improve our Scout Camp for years to come. Some of these improve our infrastructure (such as water wells and storage, dormitory buildings for the Outdoor School and Scout activities, road work) while others provide new activities for the visitors to Rancho Alegre (physical fitness course, additional camping areas, enhanced aquatic area).