Eagle Scout Honor Roll
Eagle Scout is the highest rank in Scouting. In fact, only 2 to 3 percent of all Scouts garner this prestigious award. An Eagle Scout is marked for life as a leader and an achiever. It is with great pride that we congratulates the recipients of Eagle Scout rank here in the South Coast District.
Behind each Scout are parents, leaders, and mentors. We thank each one of them for their contribution to the Scout's success.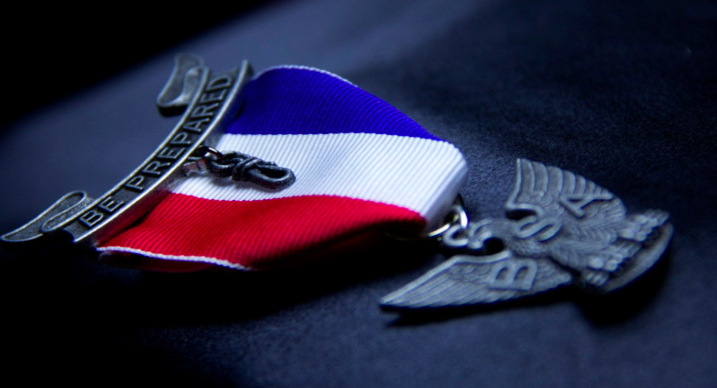 South Coast District Eagle Scout Alumni
2018
| | | | |
| --- | --- | --- | --- |
| Scout | | Unit | Date |
| Dale | John Turchiaro | Troop 105 | 3/22/18 |
| Gunson | Vincenzo Michael | Troop 20 | 3/22/18 |
| Jones | Trey Brett | Troop 6 | 2/15/18 |
| Rademacher | Richard James | Troop 1 | 2/15/18 |
| Wong | Nathaniel F. | Troop 26 | 3/22/18 |
2017
| | | | |
| --- | --- | --- | --- |
| Scout | | Unit | Date |
| Aigner | Lucas Anthony | Troop 37 | 8/31/17 |
| Buchmiller | Brian William | Troop 147 | 2/2/17 |
| Coffin | Adam Tristram | Troop 33 | 12/28/17 |
| Coffin | Justin Joseph | Troop 33 | 12/28/17 |
| Fischer | Jack Wesley | Troop 1 | 12/21/17 |
| Forte | Vaughn Orion | Troop 26 | 3/2/17 |
| Funk | Tanner Paulson | Crew 20 | 5/18/17 |
| Golas | Calvin Henry | Troop 4 | 7/20/17 |
| Greathouse | Matthew Meredith | Troop 37 | 7/27/17 |
| Hanson | Mathew Morgan | Troop 1 | 6/22/17 |
| Kamlet | Joseph Samuel | Troop 2 | 7/20/17 |
| Mackie | Nicholas Curran David | Troop 37 | 4/20/17 |
| Madajian | Gregory Haig | Troop 46 | 6/22/07 |
| Meyer | Jason Carl | Troop 4 | 12/18/17 |
| Nichoson | Cameron Sean | Troop 26 | 4/20/17 |
| Noronha | Keegan | Troop 37 | 8/31/17 |
| Parsons | James Coleman | Troop 4 | 5/18/17 |
| Sorenson | Christopher Paul | Troop 20 | 6/3/17 |
| Spackman | Zachariah Stephen | Crew 20 | 3/2/17 |
| Swider | Jeremiah John | Troop 26 | 2/23/17 |
| Urschel | Henry Cameron | Troop 1 | 2/23/17 |
| Zavallos | Benjamin Alexander | Troop 26 | 12/21/17 |
2016
| | | | |
| --- | --- | --- | --- |
| Scout | | Unit | Date |
| Ball | Jamison Russell | Troop 26 | 3/17/16 |
| Beifuss | Benjamin | Crew 126 | 9/29/16 |
| Borysyuk | Artem A | Troop 4 | 10/6/16 |
| Broumand | Ryan | Troop 105 | 9/15/16 |
| Cantin | John Michael | Troop 33 | 4/28/16 |
| Chamlee | Peter William | Troop 147 | 7/20/16 |
| Condie | Micah Kurt | Troop 1 | 2/25/16 |
| Dominguez | Daniel DiLoreto | Troop 1 | 2/25/16 |
| Edney | Ethan Graham | Troop 1 | 4/28/16 |
| Eichert | Richard Stephen III | Troop 105 | 12/15/16 |
| Emmons | Spencer Christian | Troop 147 | 4/21/16 |
| Flynn | Aidan Stephan | Troop 50 | 6/23/16 |
| Foster | Travis Allen | Troop 37 | 6/23/16 |
| Foster | Ryan David | Troop 37 | 7/28/16 |
| Gallacher | Sean Michael | Troop 20 | 3/17/16 |
| Gonzalez | Teofilo Francesco | Troop 105 | 7/28/16 |
| Haagen | Daniel Kenneth W | Troop 105 | 9/29/16 |
| Herendeen | Eric Christian | Troop 1 | 12/15/16 |
| Johnson | Samuel Paul | Troop 26 | 9/15/16 |
| Jones | Caleb Aaron | Troop 4 | 9/15/16 |
| McKee | Jack Charles | Troop 2 | 3/24/16 |
| Mills | Kai Son | Troop 20 | 8/11/16 |
| Nelson | Jack Edson | Troop 126 | 10/6/16 |
| Oakley | William Christopher | Troop 20 | 8/4/16 |
| Roberts | Cameron Thomas | Troop 105 | 2/18/16 |
| Ruth | Kendall Robert | Crew 126 | 4/21/16 |
| Saragosa | John | Troop 26 | 7/20/16 |
| Still | Ty Reece | Troop 2 | 6/16/16 |
| Williams | Tyler James | Troop 26 | 12/29/16 |
| Zepeda | Nicolaus Aguilar | Troop 26 | 8/4/16 |
2015
| | | | |
| --- | --- | --- | --- |
| Scout | | Unit | Date |
| Acuna | Joshua Cooper | Troop 26 | 8/27/15 |
| Barrad | Riley Kimrin | Troop 26 | 7/23/15 |
| Block | Carter Phillip | Troop 37 | 1/17/15 |
| Copeland | Jack Anderson | Troop 105 | 9/24/15 |
| Dale | James Michael | Troop 105 | 8/27/15 |
| Diep | Jason C | Troop 4 | 5/28/15 |
| Frey | Jonathan C | Troop 105 | 4/16/15 |
| Hapeman | Roy | Troop 1 | 7/21/15 |
| McCafferey | Stephen Robert | Troop 26 | 3/26/15 |
| Shove | David Patrick | Troop 36 | 2/04/15 |
| Smith | Duncan Patrick | Troop 50 | 6/29/15 |
| Spackman | Samuel Tanner | Crew 20 | 2/05/15 |
| Steelsmith | Jacob Kent | Troop 122 | 12/22/14 |
| Taylor | James P. | Troop 26 | 7/16/15 |
| Voigt | Nathan Andrew | Troop 122 | 6/25/15 |
| Wang | Eric Hanping | Troop 4 | 10/15/15 |
| Williams | Luke Daniel | Troop 105 | 8/27/15 |
| Wright | Eli Nielsen | Troop 20 | 1/23/15 |
| Wright | Jace William | Troop 20 | 1/23/15 |
| Zevallos | David Phlllip | Troop 26 | 723/15 |
2014
| | | | |
| --- | --- | --- | --- |
| Scout | | Unit | Date |
| Belfiore | William Cavallero | Troop 26 | 10/29/14 |
| Boden | Carter | Troop 126 | 10/16/14 |
| Casper | Justin Charles | Troop 37 | 7/17/14 |
| Casper | Matthew Ryan | Troop 37 | 7/17/14 |
| Field | Abraham David | Troop 6 | 12/18/14 |
| Grant | Russell Smith | Troop 126 | Troop 126 |
| Hallerman | Daniel Joseph | Crew 6 | 2/20/14 |
| Hogan | Miles Hill | Troop 33 | 8/20/14 |
| Kelly | Aidan Patrick | Troop 36 | 12/18/14 |
| Marquis | Matthew Alexander | Troop 126 | 11/20/14 |
| Mitchell | Dalton Robert | Troop 122 | 4/17/14 |
| Ryan | Taleiesin Thomas | Troop 50 | 5/22/14 |
| Steelsmith | Jacob Kent | Troop 122 | 12/22/14 |
| Stewart | Duncan Andrew | Troop 26 | 1/16/14 |
| Teng | Steven Leonard | Troop 36 | 8/20/14 |
| Wakamiya | Andrew Dean | Troop 36 | 9/18/14 |
| Walker | Casey | Troop 50 | 3/20/14 |
| Williams | Thomas Jens | Troop 37 | 8/18/14 |
| Zepeda | Esteban Aguilar | Troop 26 | 4/17/14 |
2013
| | | | |
| --- | --- | --- | --- |
| Scout | | Unit | Date |
| Bodne | Baylee | Troop 126 | 8/22/13 |
| Brady | Colin Matthew | Troop 26 | 9/12/13 |
| Dutcher | Brandon Beau | Troop 4 | 4/25/13 |
| Harris | Michael William | Troop 26 | 3/28/13 |
| Hirsch | Christian Edward | Troop 26 | 2/28/13 |
| Hogan | Liam Lueck | Troop 105 | 9/26/13 |
| Kelly | Jack Brendan | Troop 50 | 7/18/13 |
| Lund | John Taylor | Troop 126 | 12/19/13 |
| Madajian | Alex Michael | Troop 4 | 11/21/13 |
| Oleson | Christopher Lee | Troop 126 | 8/22/13 |
| Palmer | Justin Tyler | Troop 26 | 5/22/13 |
| Priest | Simon Augustus | Troop 50 | 12/19/13 |
| Ray | Devin Moore | Troop 6 | 6/20/13 |
| Salman | John Nethery | Troop 33 | 8/22/13 |
| Shaw | Kevin Tyler | Troop 26 | 6/20/13 |
| Sorensen | Benjamin Stephen | Crew 20 | 2/28/13 |
| Soto | Michael Alexander | Troop 4 | 4/25/13 |
| Uribe | Christian Alexander | Crew 6 | 2/28/13 |
| Work | Daniel Telford | Troop 33 | 8/22/13 |
2012
| | | | |
| --- | --- | --- | --- |
| Scout | | Unit | Date |
| Arras | Callum | Troop 2 | 02/16/12 |
| Attula | Scott | Troop 6 | 01/19/12 |
| Burre | Anthony Lorenz | Troop 4 | 08/23/12 |
| Dalton | Aaron Thomas | Troop 26 | 06/21/12 |
| Dutcher | Andres | Troop 4 | 08/23/12 |
| Ellsworth | John | Crew 6 | 04/19/12 |
| Errico | John Michael | Troop 36 | 03/29/12 |
| Ewasiuk | Jonathan Blaine | Troop 4 | 12/2/12 |
| Ford | Jonathan James | Troop 1 | 07/19/12 |
| Freniere | Liam James | Troop 1 | 06/21/12 |
| Gardiner | Dayne | Troop 6 | 01/26/12 |
| Gutierrez | Samuel | Troop 50 | 01/26/12 |
| Halsey | Ryan Devere | Troop 4 | 03/29/12 |
| Haslem | Charles Andrew | Troop 33 | 10/18/12 |
| Haws | Harrison | Troop 126 | 12/20/12 |
| Hayes | Orion | Troop 126 | 06/14/12 |
| Helkey | Benjamin | Troop 1 | 01/19/12 |
| Hipple | James Patrick | Troop 50 | 11/15/12 |
| Knowles | Patrick | Troop 4 | 12/20/12 |
| Konkol | Patrick John | Troop 105 | 11/15/12 |
| Madajian | Jonathan Avedis | Troop 4 | 12/27/12 |
| Mann | Taylor T. | Troop 126 | 06/21/12 |
| McComb | Berkeley | Troop 20 | 02/23/12 |
| Mora | Farid ("Fritz") Assad | Troop 105 | 03/15/12 |
| Nelson | Thomas Stevenson | Crew 20 | 04/26/12 |
| Paolo | Christian A. Peterson | Troop 50 | 09/20/12 |
| Roberts | Brandon James | Troop 105 | 12/20/12 |
| Sandford | Brian Dean | Troop 37 | 12/27/12 |
| Soto | Thomas E. | Troop 4 | 03/29/12 |
| Sweeney | Sean | Troop 4 | 12/27/12 |
| Teng | Benjamin | Troop 26 | 02/16/12 |
| Voigt | Kevin | Troop 122 | 01/26/12 |
| Wakamiya | Henry Craig | Troop 36 | 08/23/12 |
| Work | Jeremy Thomas | Troop 33 | 04/26/12 |
| Wright | J. Dylan | Troop 126 | 01/19/12 |
| Zaida | Jeremy | Troop 105 | 07/26/12 |
| Zimmerman | Charlie | Troop 26 | 12/27/12 |
2011
| | | | |
| --- | --- | --- | --- |
| Scout | | Unit | Date |
| Aasted | Steven Mark | Troop 1 | 12/15/11 |
| Anderson | Clifford | Troop 33 | 03/17/11 |
| Bartlein | Jake | Troop 1 | 04/21/11 |
| Beifuss | Jacob Paul | Troop 126 | 12/15/11 |
| Brand | John Richard | Troop 50 | 05/19/11 |
| Buchmiller | Michael Max | Troop 147 | 08/18/11 |
| Burre | William | Troop 4 | 04/21/11 |
| Casper | Robert Tyler | Troop 37 | 05/19/11 |
| Collins | Galen Sean Japhet | Troop 37 | 08/27/11 |
| Deacon | James Christopher | Troop 37 | 06/23/11 |
| Dill | Jeremy | Troop 122 | 02/17/11 |
| Elton | Byron Joseph Smith | Troop 20 | 08/18/11 |
| Flynn | Vincent Patrick | Troop 50 | 06/23/11 |
| Funk | Parker | Troop 20 | 03/17/11 |
| Gau | Jeffrey | Troop 26 | 10/27/11 |
| Helkey | Christopher | Troop 1 | 04/28/11 |
| Kimball | Carter | Troop 126 | 02/17/11 |
| Kovacs | Kyle Robert | Troop 37 | 09/15/11 |
| Leicht | Andrew Charles | Troop 105 | 03/24/11 |
| McCaffery | Andrew | Troop 26 | 11/17/11 |
| Michaels | Logan Augustus | Troop 4 | 04/28/11 |
| Norton | Gregory | Troop 50 | 10/20/11 |
| Pinner | Brian | Troop 26 | 09/15/11 |
| Oleson | Mitchell | Troop 126 | 02/24/11 |
| Scarvelis | Nicholas | Troop 33 | 02/17/11 |
| Schlesselmann | Patrick David | Troop 105 | 05/26/11 |
| Shaw | Brian | Troop 26 | 03/24/11 |
| Silva | Max | Troop 26 | 03/17/11 |
| Sorensen | Peter Paulson | Troop 20 | 05/26/11 |
| Wilkinson | Sam | Troop 122 | 07/28/11 |
| Williams | Ricky | Troop 122 | 01/27/11 |
2010
| | | | |
| --- | --- | --- | --- |
| Scout | | Unit | Date |
| Baird | Ryan | Troop 50 | 07/15/10 |
| Balch | Daniel | Troop 122 | 05/20/10 |
| Becker | Andrew | Troop 33 | 07/15/10 |
| Chamlee | David | Troop 147 | 10/21/10 |
| Clevenger | Sam | Troop 26 | 02/25/10 |
| Dorny | Tyler | Crew 6 | 05/27/10 |
| Ellsworth | Benjamin | Crew 6 | 03/25/10 |
| Gainey | Daniel | Troop 26 | 05/20/10 |
| Genardini | Joshua | Troop 122 | 01/28/10 |
| Giordani | Daniel | Troop 4 | 08/19/10 |
| Goulart | Timothy | Troop 50 | 04/22/10 |
| Hamber | Zachary | Troop 4 | 02/25/10 |
| Harms | David | Troop 50 | 12/23/10 |
| Inglehart | Ryan | Troop 1 | 06/24/10 |
| Leutheuser | Paul | Troop 26 | 02/25/10 |
| Liddell | Logan | Troop 50 | 10/21/10 |
| Mann | Jackson | Crew 126 | 06/24/10 |
| McClenathen | Matthew Alan | Troop 122 | 03/25/10 |
| McNary | Andrew | Troop 126 | |
| Nichoson | Tyler | Troop 37 | 12/16/10 |
| Proctor | Connor | Troop 37 | 12/16/10 |
| Proctor | William | Troop 37 | 12/16/10 |
| Rademacher | Joshua | Troop 1 | 11/18/10 |
| Schiferl | Thomas | Troop 105 | 12/09/10 |
| Shaner | Michael | Troop 122 | 07/15/10 |
| Sims | Jonathan | Troop 26 | 02/25/10 |
| Smith | Eric | Troop 126 | 04/22/10 |
| Tench | John | Troop 36 | 03/25/10 |
| Torgeson | Ryan | Troop 36 | 10/28/10 |
| Vallier | Brendan | Troop 105 | 10/28/10 |
2009
| | | | |
| --- | --- | --- | --- |
| Scout | | Unit | Date |
| Baird | Chris | Troop 26 | 10/13/09 |
| Baird | Jonathan | Troop 50 | 09/01/09 |
| Beifuss | Zachariah T. | Troop 126 | 04/27/09 |
| Burgess | Patrick | Troop 105 | 03/17/09 |
| Day | Addison D. | Troop 126 | 04/27/09 |
| Dunn | Conner | Troop 126 | 10/13/09 |
| Giroux | Louis | Troop 20 | 11/19/09 |
| Huthsing | Daniel | Troop 4 | 04/27/09 |
| Iorio | Lucas | Troop 122 | 11/19/09 |
| Jones | Phillip | Troop 4 | 02/23/09 |
| Kelly | Devin | Troop 36 | 09/01/09 |
| Murray | Blake I. | Troop 4 | 08/19/09 |
| Rosenberg | James "Jamie" | Troop 2 | 05/27/09 |
| Saito | Nathan | Troop 147 | 08/19/09 |
| Scarvelis | Steven | Troop 33 | 04/08/09 |
| Smith | Adam | Troop 126 | 08/19/09 |
| Spackman | Michael | Troop 20 | 05/13/09 |
| Swann | Tyler | Troop 26 | 02/19/09 |
| VanHecke | Nicholas Vincent | Troop 4 | 08/19/09 |
| Verhasselt | Samuel J. | Troop 105 | 03/17/09 |
| Wright | Isaac | Troop 20 | 10/22/09 |
2008
| | | | |
| --- | --- | --- | --- |
| Scout | | Unit | Date |
| Alm | Reily | Troop 20 | 04/09/08 |
| Bottoms | Benton | Troop 33 | 01/10/08 |
| Burnworth | Gabriel | Troop 126 | 06/17/08 |
| Cusack | Christopher | Troop 33 | 08/17/08 |
| Ford | Brian | Troop 1 | 04/25/08 |
| Funk | Spencer | Troop 20 | 07/22/08 |
| Helkey | Daniel | Troop 1 | 07/15/08 |
| Kump | Karson | Troop 147 | 07/15/08 |
| Lamb | Kevin | Crew 6 | 03/11/08 |
| Lander III | Jack | Troop 2 | 06/30/08 |
| Loomis | John | Troop 1 | 01/14/08 |
| Salman | Nathan | Troop 33 | 02/13/08 |
| Nagy | Ryan | Troop 33 | 02/13/08 |
| Michaels | Spencer | Troop 4 | 06/30/08 |
| Schlesselmann | Michael Paul | Troop 105 | 07/22/08 |
| Yonke | Joseph | Troop 105 | 08/28/08 |
| Uribe | Michael | Troop 6 | 11/13/08 |
| O'Connell | Brendan | Troop 1 | 12/10/08 |
2007
| | | | | |
| --- | --- | --- | --- | --- |
| | Scout | | Unit | Date |
| | Arakelian | Ohan John | Troop 1 | 5/10/07 |
| | Armstrong | Bradley Brooke | Troop 122 | 2/1/07 |
| | Beifuss | Jared Travis | Troop 126 | 4/26/07 |
| | Breton | Christopher Colby | Troop 105 | 11/4/07 |
| | Buchmiller | Samuel Franklin | Troop 147 | 7/17/07 |
| | Burgher | Andrew Raymond | Troop 26 | 11/1/07 |
| | Churchman | Bradley Colin | Troop 26 | 2/13/07 |
| | Collins | Carlin Day | Troop 37 | 6/14/07 |
| | Cornelius | Nathan D. | Troop 36 | 3/29/07 |
| | Clemens | Parker Andrew | Troop 33 | 8/29/07 |
| | Dal Zuffo | Matt S. | Troop 1 | 6/15/07 |
| | Donovan | Dustin Daniel | Troop 147 | 5/23/07 |
| | Ford | Jason Cristofer | Troop 1 | 1/22/07 |
| | Franklin | Akira Joshua | Troop 1 | 8/9/07 |
| | Gress | Andrew Jay | Troop 1 | 12/10/07 |
| | Haws | Derrick Griffith | Troop 126 | 5/14/07 |
| | Hodson | Michael Richard | Troop 20 | 11/28/07 |
| | Hulme | Robert Kent | Troop 20 | 1/9/07 |
| | Kerby | Jeremy Tyler | Crew 126 | 9/25/07 |
| | Kimball | Ryan Williams | Troop 126 | 3/1/07 |
| | Ligon | Benjamin Robert | Troop 1 | 5/23/07 |
| | Long | Kegan Patrick | Troop 2 | 3/30/07 |
| | Marsh | Alexander Peter Thomas | Troop 36 | 5/23/07 |
| | May | Spencer Ryan | Troop 33 | 8/21/07 |
| | McConnell | Robert John | Troop 2 | 6/3/07 |
| | Murray | Bryce Robert | Troop 4 | 7/3/07 |
| | Priestman | Jeremy Cody Hunter | Lone Scout | 3/24/07 |
| | Rosales | Zac Estrada | Troop 1 | 12/10/07 |
| | Shaner | James Cullen | Troop 122 | 2/1/07 |
| | Smith, III | Hobart N. | Troop 50 | 4/14/07 |
| | Swider | Jonathon Paul | Troop 26 | 4/9/07 |
| | Vazquez | Christopher Tavish | Tropop 33 | 9/26/07 |
| | Wolff | Alexander Carl | Troop 4 | 6/12/07 |
2006
| | | | |
| --- | --- | --- | --- |
| Scout | | Unit | Date |
| Avery | Keith Pierce | Troop 54 | 3/13/06 |
| Baird | Randall Carter | Troop 26 | 6/8/06 |
| Brown | Wade William Paterson | Troop 54 | 3/2/06 |
| Crimi | Cole Diion Roberts | Troop 50 | 9/21/06 |
| Deaver | Ryan Francis Burke | Troop 20 | 8/31/06 |
| Dorion | Bryce Kenneth | Troop 126 | 5/3/06 |
| Ellsworth | Matthew Aaron Eid | Troop 6 | 12/13/06 |
| Grayson | John Robert Alexander | Troop 37 | 8/24/06 |
| Hawkins | James Owen | Troop 1 | 12/11/06 |
| Hayes | Paul William | Troop 1 | 2/3/06 |
| Johnson | Michael Robert | Troop 54 | 8/14/06 |
| Johnson | Scott Matthew | Troop 122 | 11/1/06 |
| Jones | William McGarren | Troop 37 | 8/24/06 |
| Kwan | Theodore Michael | Troop 105 | 9/8/06 |
| McIntyre | Joshua Robin | Troop 50 | 2/24/06 |
| Mulroy | Matthew Clinton | Troop 50 | 7/8/06 |
| Murdoch | James Alexander | Troop 20 | 12/20/06 |
| Nelson | Charles Henderson | Troop 105 | 11/13/06 |
| Poulin | William Coyne | Troop 26 | 12/15/06 |
| Rademacher | Michael Forbes | Troop 1 | 3/16/06 |
| Snarr | Steven Benjamin | Troop 6 | 11/2/06 |
| Steward | Matthew Kirk | Crew 6 | 12/7/06 |
| Topham | Matthew Roland | Troop 50 | 10/14/06 |
2005
| | | | |
| --- | --- | --- | --- |
| Scout | | Unit | Date |
| Axtell | Glenn James | Troop 105 | 10/15/05 |
| Buchmiller | Benjamin Karl | Troop 147 | 5/25/05 |
| Carrigan | Aaron Maitland | Crew 20 | 6/12/05 |
| Doherty | Bryan Patrick | Troop 122 | 4/20/05 |
| Flynn | Matthew Phillip | Troop 50 | 11/09/05 |
| McClenathen | Michael Gorden | Troop 122 | 12/18/05 |
| Naumu | Levi | Troop 4 | 12/6/05 |
| Naumu | Tyler Richard | Troop 4 | 12/6/05 |
| Shipley | Samuel Beckstead | Troop 20 | 1/6/05 |
| Sims | Jason Robert | Troop 26 | 11/3/05 |
| Sorensen | David Jacob | Team 20 | 1/6/05 |
2004
| | | | |
| --- | --- | --- | --- |
| Scout | | Unit | Date |
| Abbott | Christopher Gerald | Troop 50 | 7/29/04 |
| Basham | Michael Laurence | Crew 126 | 9/28/04 |
| Ceriale | Patrick Rennie | Troop 105 | 9/29/04 |
| Cook | John Taleisin | Troop 4 | 6/2/04 |
| Danduran | Robert Jason | Troop 105 | 3/3/04 |
| Good | Joseph | Troop 105 | 9/29/04 |
| Harmon | Robert Davis | Troop 126 | 6/16/04 |
| Holbrook | Von Grant | Troop 6 | 12/19/04 |
| Karr | Brett Williams | Troop 50 | 12/2/04 |
| Kelly | Daniel Patrick | Troop 33 | 2/26/04 |
| Kimball | Tyler Williams | Troop 126 | 4.7/04 |
| Lamb | Eric Vieira | Troop 6 | 9/13/04 |
| Lyons | Jared Wayne | Troop 36 | 1/21/04 |
| Mann | Jordan Michael Dean | Crew 126 | 7/21/04 |
| McCollum | Riochard Thomas | Team 20 | 9/28/04 |
| McManigal | Ryan Thomas | Troop 33 | 6/5/04 |
| Morey | Shawn Daniel | Troop 20 | 1/20/04 |
| Pettus | Walter C. | Troop 4 | 8/20/04 |
| Scoggins | Trevor Lee | Troop 105 | 9/29/04 |
| Sloane | Ryan Micah | Troop 54 | 12/12/04 |
| Stehmeier | Travis Roy | Team 20 | 5/1104 |
| Story | Matthew Kyle | Troop 6 | 9/18/04 |
| Tynan | Collins | Troop 33 | 8/25/04 |
| Vogel | Matthew Alexander | Troop 54 | 3/30/04 |
| Wagner | Kirk Daniel | Troop 26 | 10/13/04 |
| Walker | Gregory Doty | Troop 126 | 4/7/04 |
2003
| | | | |
| --- | --- | --- | --- |
| Scout | | Unit | Date |
| Avila | Vincent David | Troop 105 | 5/28/03 |
| Basham | Christopher Brian | Crew 125 | 4/9/03 |
| Beardsmore | Shaun Michael | Troop 26 | 1/9/03 |
| Beffel | Daniel Robert | Troop 54 | 10/15/03 |
| Carroll | Sean Gregory Maxwell | Troop 1 | 8/27/03 |
| Chamlee | Thomas Edward | Troop 147 | 5/1/03 |
| Clemens | Austin Scott | Troop 33 | 1/15/03 |
| Gray | Nicholas McGhee | Troop 1 | 9/11/03 |
| Holbrook | Todd James | Troop 6 | 8/17/03 |
| Kern | Joshua Mark Henry | Troop 122 | 8/20/03 |
| La Paglia | Trevor Anthony | Troop 26 | 2/12/03 |
| Mills | Chad Laurence | Crew 6 | 9/14/03 |
| Norris | John Stephen | Troop 147 | 5/1/03 |
| Pettus | Eric Wells | Troop 4 | 8/20/03 |
| Powers | Gerard Robert | Troop 122 | 8/20/03 |
| Salman | Tyler Nethery | Troop 33 | 6/26/03 |
| Seagrave | Mark Andrew | Troop 50 | 12/18/03 |
| Shapero | Matthew William Keller | Troop 33 | 4/30/03 |
| Snarr | Robert Daniel | Troop 6 | 9/14/03 |
| Szerwo | Stuart R. | Troop 26 | 9/12/03 |
2002
| | | | |
| --- | --- | --- | --- |
| Scout | | Unit | Date |
| Almquist | Justin Paul | Troop 1 | 12/30/02 |
| Barnes | Andrew Brandon | Troop 147 | 7/3/02 |
| Betz | Daviod Kisaburo | Troop 6 | 2/12/02 |
| Bottoms | William Bodie | Troop 33 | 10/16/02 |
| Bridge | Bryan Louis | Troop 26 | 6/17/02 |
| Burnworth | Simon Peter | Team 20 | 10/1/02 |
| Cabrera | Pablo Francisco | Troop 26 | 10/9/02 |
| Campbell | Alexander Joseph | Troop 26 | 7/6/02 |
| Diffoot | Michael Roberto | Troop 105 | 4/10/02 |
| Donovan | Brandon Todd | Troop 147 | 7/30/02 |
| Durbin | Daniel Charles | Troop 122 | 5/1/02 |
| Faulkner | John A. | Troop 26 | 2/28/02 |
| Graybill | Joshua David | Troop 6 | 1/15/02 |
| Hemmis | Keith D. | Troop 6 | 1/15/02 |
| Hichman | Derek Anthony | Troop 26 | 8/22/02 |
| Hume | Randall Scott | Team 20 | 10/1/02 |
| Matthew | Christopher Scott | Troop 36 | 2/1/02 |
| Motley, IV | Cleveland Anderson | Troop 33 | 10/8/02 |
| Nelson | Adam John | Troop 105 | 10/9/02 |
| Reynolds | Justin Douglas | Team 20 | 5/6/02 |
| Skelton | Adam Michael | Crew 126 | 5/16/02 |
| Smith | Daniel Rozsa | Troop 26 | 10/3/02 |
| Wagner | Kever Christopher | Troop 26 | 12/19/02 |